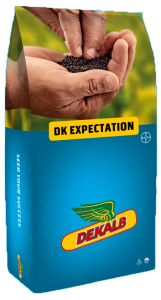 DK Expectation combines TuYV resistance with all-round agronomic strength to minimise commercial production risk.
Solid 4.90t/ha-plus average yields from all sowing dates in 14-site field-scale 2022 grower trials, with notably little difference between them.

Vigorous establishment and rapid autumn development, offering wide sowing date flexibility and the best tolerance of early pest damage.

Rapid spring regrowth and early flowering for strong compensation from winter damage and long pod-fill.

Noticeably lower levels of 2023 TuYV infection than other leading varieties with the resistance trait in breeders trials.

Good light leaf spot, stem canker and verticillium resistance with strong standing power for the greatest management flexibility.

Original Dekalb pod shatter resistance, maximising combining flexibility while minimising losses in the run-up to and at harvest.
Vigorous Establishment
Robust initial root and shoot growth for the most reliable and even establishment.
Rapid Autumn Development
Faster-than-average development for the most rapid growth away from flea beetles and other autumn challenges.
Double Phoma Resistance
RLM7 supported by polygenic resistance for the most durable phoma/stem canker protection and greatest spraying economy and flexibility.
TuYV resistance   
Effective resistance to Turnip Yellows Virus for extra insurance against aphid-borne infections and greatest spraying economy and flexibility.
Pod Shatter Resistance
Pioneering genetic resistance to pod shattering for the least seed shedding up to and at harvest and the greatest flexibility in harvest timing.
High Oil
Higher-than-average oil content to maximise gross output for added market returns.