Potential consequences
Bayer believes that the EC proposal to restrict further the use of neonicotinoid plant protection products is illogical and disproportionate. Yet the impact could be significant. Decide for yourself from these illustrations.
Seed treatments reduce the need to treat crops after emergence, such as with broad-spectrum insecticide sprays or slug pellets.
Seed treatments are more environmentally friendly than spray treatments which also need careful timing. Moreover, a single seed treatment may well do the job of multiple sprays.
Without seed treatments farmers would need to spray cereals an extra one or two times, use an extra 200 million litres of water and an additional one million litres of diesel to power their tractors and equipment:

Using Deter seed treatments for reducing slug grain hollowing in cereals potentially saves up to 1,600 tonnes p.a. of slug pellets being used in the UK.
Without seed treatments slug pellet use will increase: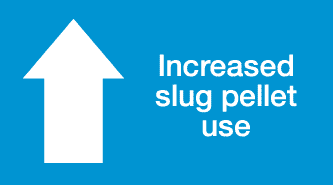 In eleven UK sugar beet field trials assessing the impact of virus yellows, Poncho Beta shows an average 20% yield increase over untreated crops. Yield losses at this level experienced in the field would have a huge impact on sugar beet production.